Custom MyROR Platform for Childhood Literacy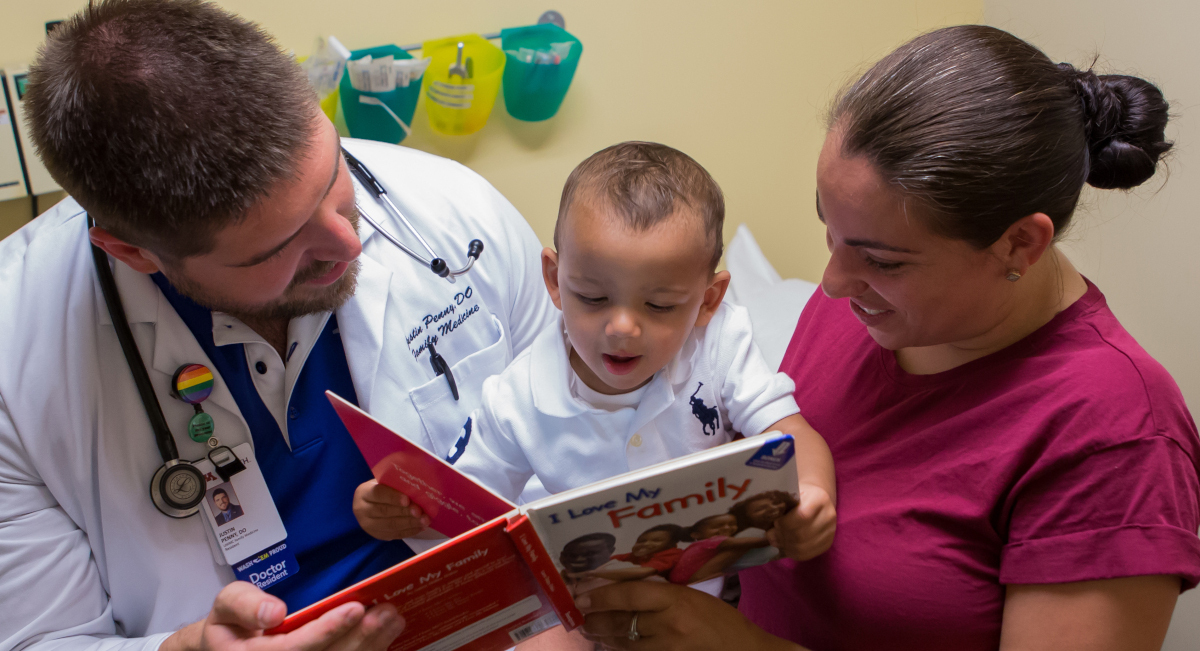 Reach Out and Read is a non-profit that promotes literacy as an important aspect of pediatric practice, working with 33,000 providers at over 6300 program sites nationwide to give young children a foundation for success by incorporating books into pediatric care and encouraging families to read aloud together.
Develop a software platform to replace an outdated, sprawling application (MyROR) with over 90,000 users that is critical to the organization's operations.
A custom platform that efficiently enables the functions, communications, training, reporting, and data management required for the success of Reach Out and Read's unique mission and model.
"Green River's guidance, process, and continued partnership has been instrumental in moving the mission of Reach Out and Read forward. The work that Green River has done for us has exceeded our anticipated outcomes; permeating our organization's culture to be a change-focused service center for our affiliate and medical provider network. "

ROR INFORMATION SYSTEMS MANAGER

Reach Out and Read enables the distribution of over 7 million books each year to young children. The organization works hard to ensure those books not only reach children in need, but also have a distinctly positive impact on their lives. That means the organization must attract new participants at pediatric sites such as hospitals, clinics, and group practices; provide the necessary resources for both operations and advocacy; deliver online training for providers; and collect the requisite data for monitoring and managing program efficacy.

Reach Out and Read took the path of custom software development with their eyes wide open. Having relied on a 9-year-old web app that was plagued by the accumulated "technical debt" of deferred maintenance and stalled feature development, the staff at Reach Out and Read recognized a pressing need to overhaul their system. After considering off-the-shelf alternatives, including a combination of CRMs, CMSs, and LMSs, they determined that their unique, ambitious organization should not be compromised by technology: that though existing software available could be made to work, it would never be ideal. So they hired us – to develop a dependable, fully customized platform designed from the outset to be the optimal tool for their mission.

Helping define and build ideal software tools is what Green River does, and we're especially pleased when our efforts serve objectives – like promoting literacy – that we strongly believe in. We are grateful that Reach Out and Read chose us as partners to create their new MyROR operational and reporting platform.
When members of an organization agree that a critical system is broken and needs to be replaced, enthusiasm about finding a solution is often palpable. Soon every problem and frustration associated with technology will vanish! And custom software has the real potential to deliver that ideal. But development takes time, and there are always resource limitations. Sophisticated workflows require iterations of feedback and refinements, and compromises are often reality.

Reach Out and Read had an existing platform that served thousands of users and pediatric provider sites across America. That meant the transition to a new system carried a very real risk of critical disruption. We also had to make fundamental changes in the user experience to implement better security practices – medical sites would no longer have shared logins, for example, but individual users would.

The existing platform held nearly a decade of data that had to be preserved and loaded into the new MyROR. As with any legacy system, data were held in structures that had themselves evolved and been adapted over time. Not only did the existing data fields have to be mapped to new ones, but the meaning and value of underlying table fragments that were populated but apparently no longer updated had to be deciphered. And because extensive, accurate reporting was a critical requirement of the platform, we had to be certain that no details were inadvertently overlooked.
We worked with Reach Out and Read to start the project where we like to start: with user research. Before attempting any high-fidelity design work or coding, we interviewed people from each of Reach Out and Read's user groups, observing their use of the old software, and learning about their motivations and needs. We discovered alternative systems affiliates had created, in a hodgepodge of Excel, OneNote, and other tools. In each case, these systems were created to accommodate critical workflows they could not perform in Reach Out and Read's old system. We were able to discover common needs and include features to support their work in the revised tool.

When designing the new software, Green River had the opportunity to reflect on the users' comments and rethink the organization's workflow, tailoring the new system to a process rather than the other way around. Without judicious examination and planning, we might unintentionally preserve existing quirks that offer no benefit. To avoid such problems, we used an intensively collaborative process with the technical staff at Reach Out and Read. By sharing the findings from our user research, we were able to help them align their process goals with specific user requirements. For months the team met twice weekly to review wireframes and implemented code. We then devised a thorough testing and launch plan that included transitional workflows for guiding users in updating their profiles and site information at the time of their initial login.

We also collaboratively planned the launch process. Reach Out and Read's constituents had high expectations for the project, buoyed by internal publicity, yet launch posed a real risk for significant disruption. The initial deployment had to be a success, even if the first release was not a panacea for every need of every user. So we carefully identified implementation priorities, and executed a plan to phase in addition improvements after official launch. Reach Out and Read staff then worked since with their constituents to identify and prioritize important additional enhancements, resulting in a flexible system and process built around continuous improvement.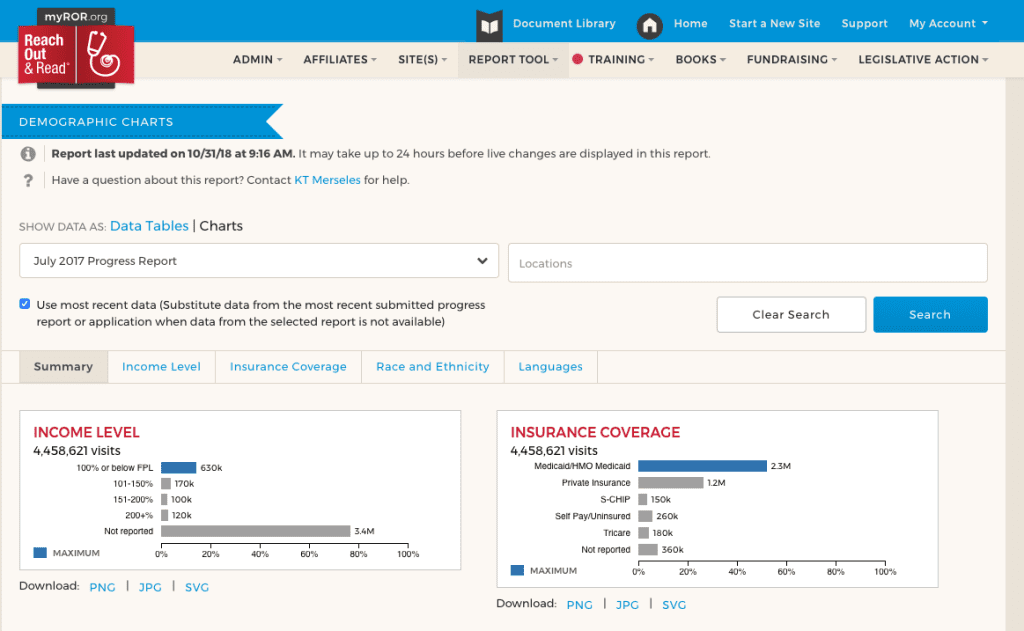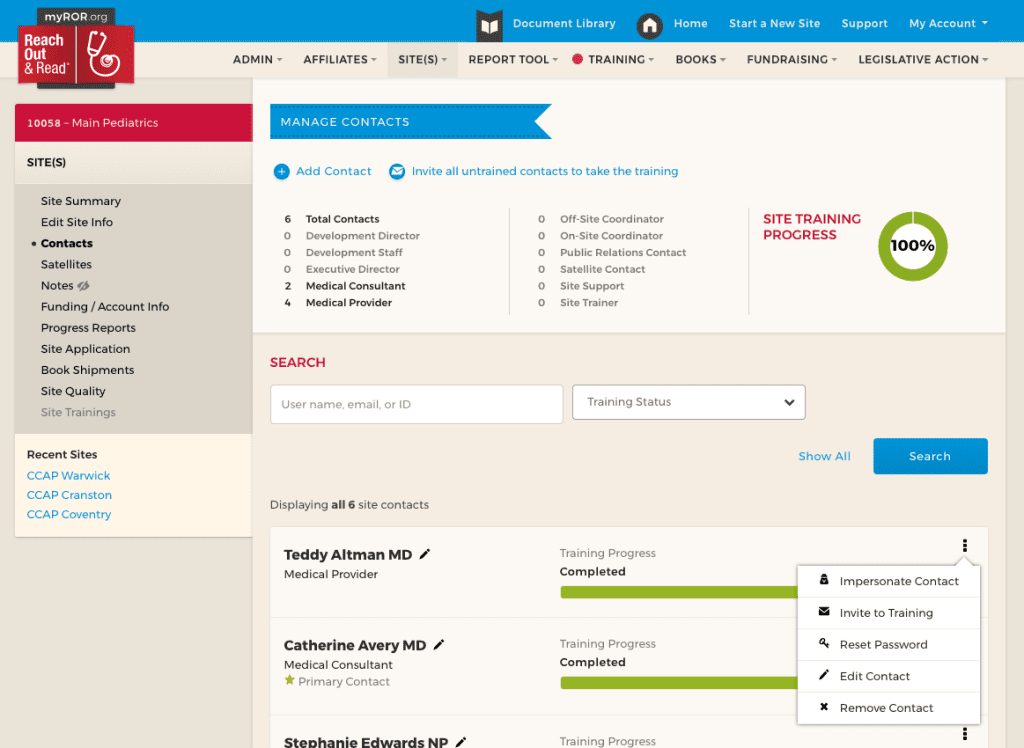 Less than a year later, Reach Out and Read announced the release of a completely new, custom MyROR platform. There are features for onboarding new medical offices, managing data collection, supporting continuing education for providers, and disseminating resources for advocacy. There are administrative tools to provide effective technical support, and manifold reports for all types of users.

When the bulk of an organization's broad operations are supported by technology, the system interaction experience can define users' perception of that organization's overall competency and efficacy. We made sure MyROR worked for users. We also made sure it will support Reach Out and Read's future growth, and facilitate the need to onboard, train, and track the performance of their diffuse network of practitioner offices around the country. Affiliates are now able to monitor and support their workflows more efficiently, without having to resort to cobbling together their own solutions. Reporting interfaces have greatly improved the timely evaluation of participating clinics, and staff can now readily assess each medical site's progress.

MyROR is Reach Out and Read's platform for a mission!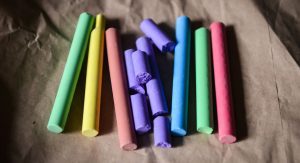 Improving urban school systems through the innovative orchestration of resources
Have questions? Want to talk? We'd love to hear from you.