Housing Navigator Massachusetts, Inc.
A free, searchable database of income-restricted rentals across Massachusetts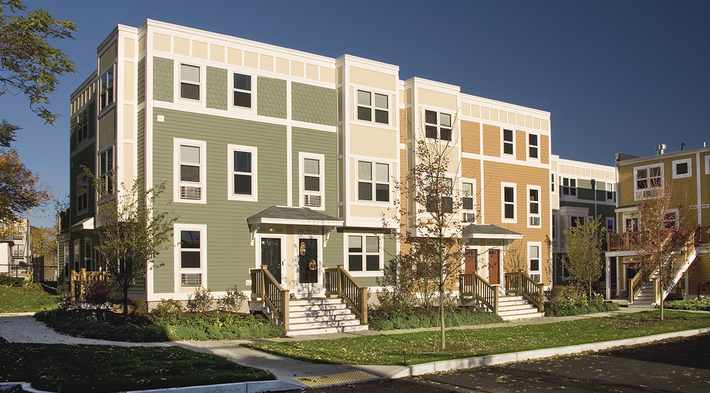 Housing Navigator Massachusetts is a 501(c)3 nonprofit with a mission to leverage technology for housing equity and transparency in the affordable housing market.
Create a one-stop shop for income-restricted rental units in Massachusetts to simplify the housing search for low- and moderate-income households.
A publicly available housing search tool and listing inventory comprising—at launch—over 160,000 affordable rentals across 260+ Massachusetts cities and towns, and featuring detailed unit descriptions, maps, photos, and search filtering by location, bedrooms, eligibility, affordability, accessibility, and more. 
"We knew Green River would share our commitment to making housing access more fair. We found out how agile they also were in the best sense of the word—nimble, responsive, and ready to roll with inevitable ups and downs. This was even more true and needed as much of the software development occurred during the deepest stages of the pandemic."
JENNIFER GILBERT
HMNI Founder and Executive Director
Founded as a nonprofit in 2019, Cambridge, Mass.-based Housing Navigator Massachusetts Inc. (HNMI) addresses a profound information gap for housing seekers: "For more market-rate rentals, there are abundant sites [like Apartments.com and Trulia]," HNMI executive director Jennifer Gilbert told The Boston Globe in 2021, "but there really hadn't been a resource like that in Massachusetts for rentals that are more affordable."
In fact, the state last consistently collected data on its income-restricted inventory in the mid-1980s. As a result, families and individuals interested in affordable units have been forced to conduct searches blind to the full slate of options and hindered by lack of information—where and when housing is available; eligibility details; whether a unit's location and layout meets the needs and desires of the whole family. By embarking on a search tool product as its first release, HNMI sought to close this information gap and, in so doing, help connect Massachusetts residents to stable housing, a critical component of overall health and economic security.
Importantly, HNMI approached the project as an exercise in broad collaboration, involving not just renters and housing advocates, but property owners and public sector actors. Green River, in turn, sought to respond to HNMI's core desire: Simplify; Make it easier to find affordable housing. Building a platform to serve both renters and property owners (who play a key role in populating the inventory with accurate unit information), we prioritized user-friendly—and user-useful—features and interfaces, collaborating with HNMI staff and target audiences to scope and develop a satisfying and rewarding search experience.
Perhaps the greatest obstacle to creating a searchable inventory of affordable housing in Massachusetts was constructing the inventory itself—a challenge both non-technical and technical in nature. The true legwork was conducted by the staff at HNMI, who gained access to existing (disparate, incomplete) raw datasets from state funding agencies as well as commitments from owners to enrich the data. By securing buy-in from public and quasi-public agencies like the state Department of Housing and Community Development (DHCD) and MassHousing as well as from for- and non-profit property owners, HNMI not only achieved a critical level of completeness for its inventory, but a critical mass of participation to drive usership and growth in property listings.
Green River, for our part, needed to develop an infrastructure to ingest the scattered array of data that HNMI secured—data that varied in quality, form, and completeness. We have deep experience integrating complex, multi-source data in several social impact sectors (including public health and homeless services) and much of our early project work focused on constructing a data pipeline to load thousands upon thousands of data rows into a common shape, and then assisting HNMI with tools to merge or discard the inevitable duplicate listings.
A second key piece of inventory work involved developing a custom CMS (content management system) for housing property owners to confirm and augment the information presented in their units' listings. These "verified listings," denoted on the platform with an icon, serve both to assure housing seekers that property information and eligibility parameters are up-to-date and to reduce the number of ineligible applications sent property owners' way—another example of Housing Navigator delivering convenience and efficiencies to affording housing.
Like many Green River projects, developing the Housing Navigator platform involved an ongoing, agile-like process of brainstorming, agreeing, and implementing features with HNMI and soliciting design and functionality feedback from the HNMI team and target users.
What perhaps set the project apart, however, was the rigor devoted to user feedback, inclusivity, and accessibility. Motivated by the mission to greatly simplify an often opaque and time-consuming process for housing seekers and property owners alike, HNMI conducted multiple rounds of extensive user research and testing with the two groups (as well as with housing and social services advocates). Particular attention was paid to diversities inherent to the platform's users—diversity in technological savvy, favored devices, and access to technology; diversity in language, age, and visual impairments, as well as geographic location in a state featuring both urban centers like Boston and rural towns on dirt roads. Green River helped HNMI to incorporate these findings and insights into the software development process so that we launched with a tool that we knew the audience could easily use.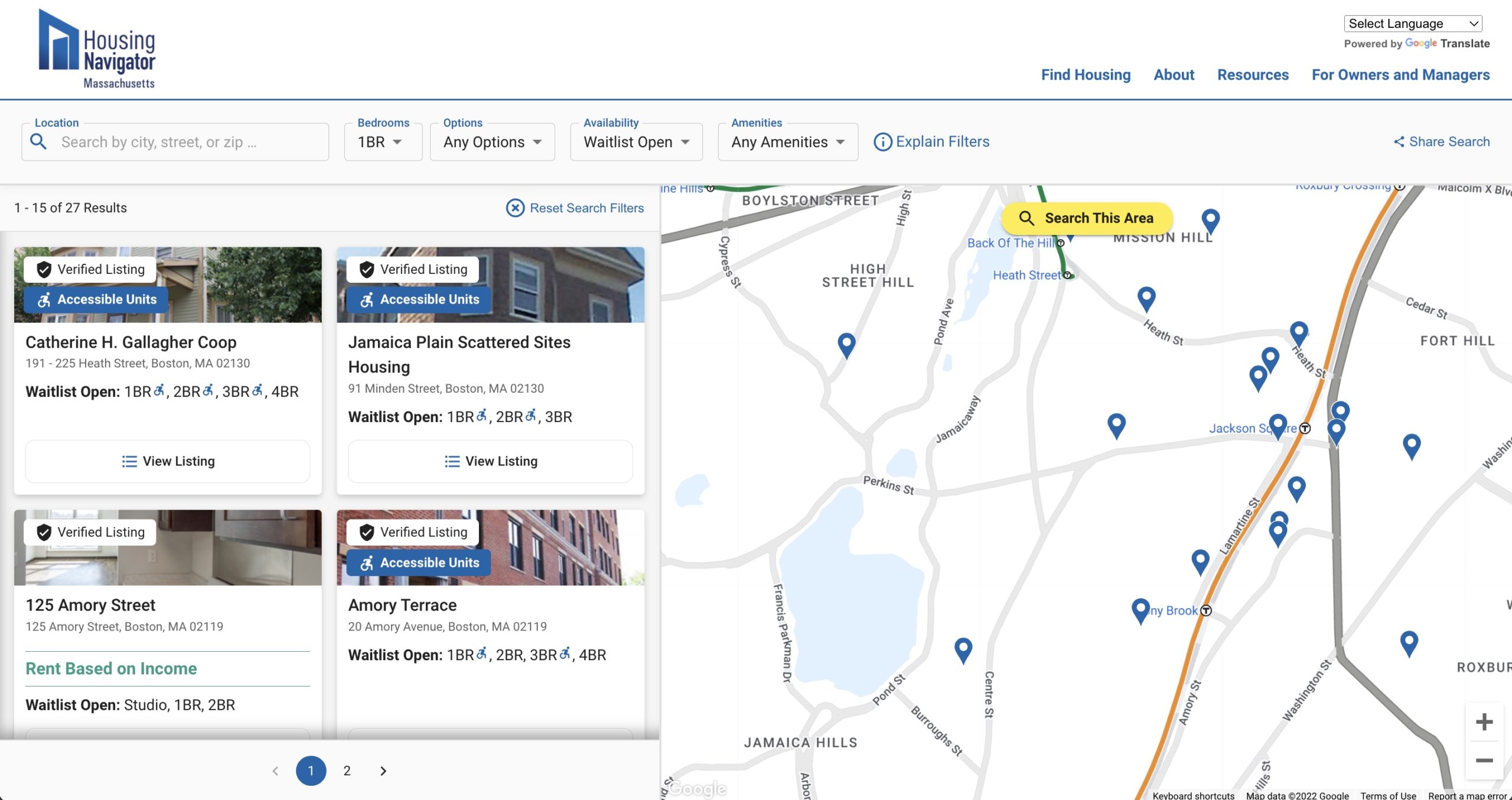 Immediately upon launch, Housing Navigator Massachusetts changed the housing search game. With hundreds more listings already in the near-term pipeline, the search tool went live in August 2021 with over 2100 properties and over 160,000 affordable rentals in 260+ cities and towns. Six months later, housing opportunities exceeded 200,000, and over 34,000 unique visitors had engaged the platform.
With additional features in the works, Housing Navigator is already providing the convenience that HNMI sought to bring to affordable housing. The platform offers a smooth user experience for desktop and mobile users alike, enabling search filtering by location, number of bedrooms, eligibility, affordability, accessibility, "pet-friendly," and more. The HNMI team continues to promote the platform's uptake by holding information sessions for, among others, service providers like school district case managers, shelter staff, and legal services advocates.
We can expect Housing Navigator to have a far-reaching impact. As HNMI attests, because stable housing is so closely linked to health and economic well-being, the Housing Navigator platform stands as a significant effort towards addressing social determinants of health—a housing intervention that improves health outcomes for individuals and decreases health care costs for communities.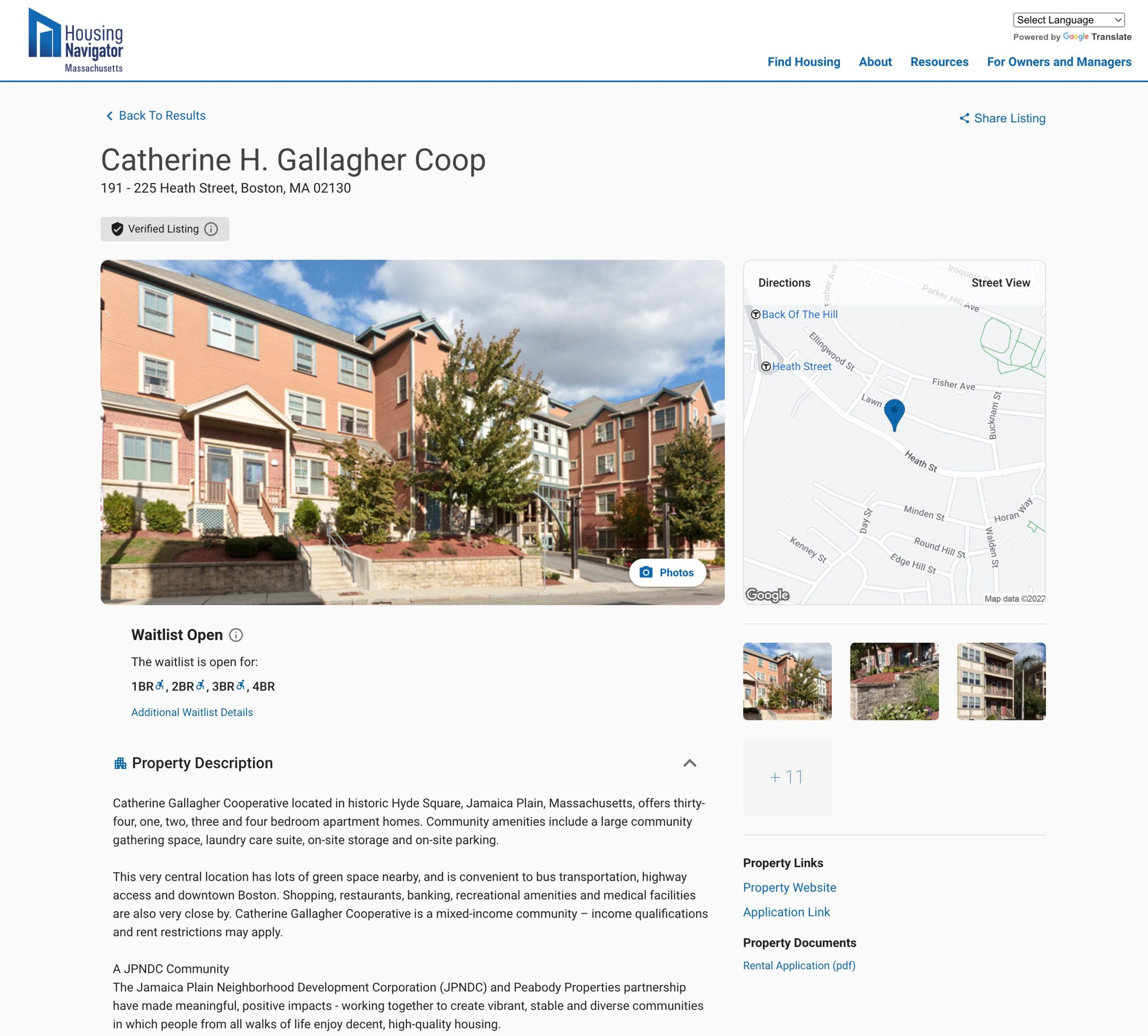 The platform enriches listings with photos, amenities descriptions, and maps indicating nearby transit. Owners and managers are incentivized to keep property information up-to-date with a "verified listing" icon for their listings.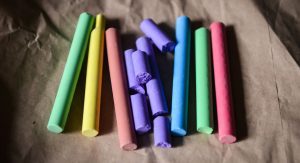 Improving urban school systems through the innovative orchestration of resources
Have questions? Want to talk? We'd love to hear from you.