Public health is a key component of social equity, and is at the foundation of much of our work. We develop data platforms that go beyond information analysis and dissemination, providing tools that are designed to maximize behavioral change.
We believe good science and good data should drive good outcomes. Green River designs and develops data systems that inform — and lead to better interventions and results. 
We engineer data consumption and analysis pipelines that securely ingest and process health related data sources at scale.
We thoughtfully implement data visualizations, maps, reports, and narrative (data-driven story telling) to deliver audience-relavent information to create and enforce positive behavior.  
Maximizing impact efficacy often means reporting at the smallest resolution possible: providing data that is applicable to a particular neighborhood, or a specific regional sub-population. 
National and statewide reporting can describe broad trends; highly local data can help local health and advocacy organizations design and implement mitigation strategies. Our goal is to provide tools that are as detailed and specific as the source data and privacy compliance allow.
Maintaining personal privacy and data security is absolutely critical in publicly available platforms. We engineer proven, dynamic data reporting restrictions to ensure HIPAA compliance at all times.  
Case Studies & White Papers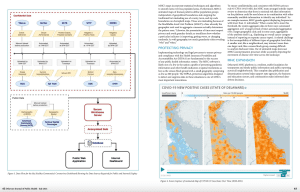 White Papers
Green River was pleased to collaborate with state epidemiologist Tabatha N. Offutt-Powell and her colleagues at the Delaware Department of Health and Social Services (DHSS) on an article published in the July 2021 issue of the Delaware Journal of Public Health (DJPH)
Have questions? Want to talk? We'd love to hear from you.