Saving the Lives of the Homeless and Most Vulnerable During the Pandemic

On February 1, 2020, the City of Boston announced its first confirmed case of COVID-19: A man in his 20s, returning directly from Wuhan, China. The man did not require hospitalization, but his case touched off a series of events that would force Boston's top leaders to make life-and-death decisions with imperfect information, as they raced to stave off the rapid spread of a virus with no known cure.
The spread of the virus was, at first, slow. Few cases were reported in the month of February and, in the first week of March, only around a dozen were confirmed. By the end of March, however, the state's COVID-19 cases multiplied, topping 800 a day. Massachusetts Governor Charlie Baker issued a string of emergency orders requiring the closure of public and private schools, playgrounds, restaurants, bars, and all non-essential workplaces.
On March 30, Boston Mayor Martin J. Walsh announced the city's plans to create subsidized housing for one thousand Boston families at heightened risk of being displaced from their homes and left homeless amid the pandemic's economic fallout. He stated, "We are fully committed to protecting all of our residents, including those experiencing homelessness, because every life is worth protecting." As part of this initiative, the city began working with Boston Healthcare for the Homeless (BHCHP) to put in place screening protocols for anyone staying in its homeless shelters, offering testing, isolation and quarantine for exposed individuals.
With the inability to safely isolate or quarantine, Boston's homeless faced the increased risk of a 40% infection rate. Realizing the immediate need for advanced contact-tracing tools that could track the movements and real-time health outcomes for the thousands of homeless throughout its network of shelters, BHCHP turned to Green River. "We've had a relationship with Boston Healthcare for the Homeless over the past few years, so when they reached out to us, we were ready," says Michael Knapp, CEO and founder of Green River. "With this pandemic, money didn't matter and the amount of work we needed to do didn't matter. We saw this as a strategic priority, a situation where we had to move swiftly to save lives."
Green River tapped its team in Brattleboro, Vermont, which worked throughout the spring on Open Path, an online, open-source software platform the company built in 2016 used by BHCHP, along with a wide range of other government agencies and nonprofits that help homeless across the country. Green River's team worked to rapidly integrate new, mobile-friendly reporting functions and contact-tracing tools, linking patients' medical records with status updates on the health and locations of Boston's homeless, which includes some of the city's most vulnerable community members.
"In early April, we recognized that the pandemic was going to be a big deal," says Ian Kozak, director of strategic development at Green River. "Boston in particular got hit really hard and we pivoted to put the necessary resources in place. Green River was able to provide the mechanisms needed to add contract-tracing to the software, because the foundations were already there." He adds, "We are a small engineering firm, working with cities, states, nonprofits and organizations to create and re-create these dynamic models. We're often able to mobilize quickly, and in ways other software companies can't."
The measures were put in place just in time. In late April, confirmed COVID-19 cases across Massachusetts leapt to just under 5,000 a day – as of today, the state's peak.
With many of Boston's homeless staying at shelters and also suffering from underlying health conditions, BHCHP relied on Green River's new tools to track individuals among the 11,000 homeless it cares for each year, gathering information from its many shelters, checking the status of patients, their isolation, quarantine and test status, and receiving medical alerts and other details.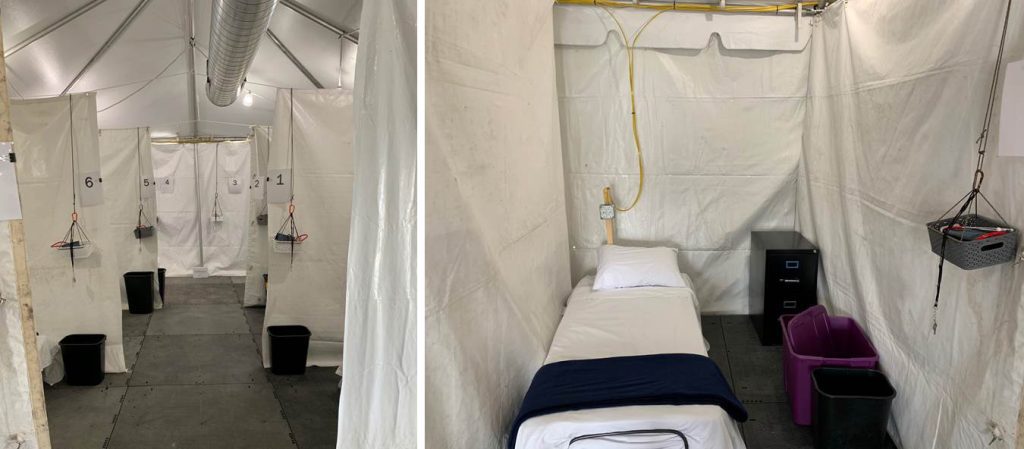 Under the direction of Mayor Walsh, Boston set up testing tents and clinical teams around the city to test patients for COVID-19, including at BHCHP, which ran a 16-bed medical tent to stem the spread of the virus and to care for people with no safe place to self- isolate while awaiting test results. BHCHP also turned an entire floor of its 52-bed Barbara McInnis House into a 24-hour COVID-19 unit, caring for Boston's homeless and other patients with confirmed cases of the virus to ease the pressure on the city's hospitals. "It was definitely a crazy time: Everyone was working around the clock," says Lisa Nguyen, BHCHP project manager and team lead for contact-tracing. "We were all taking on different roles, since there were so many shifts to cover. Everyone was redeployed at some point so we could save lives. From April to early June was when Boston was hardest hit."
The effort to ensure homeless patients with COVID-19 not only recovered from the virus, but did not infect other homeless among Boston's dozens of shelters took monumental effort, she says. Confirmed cases of COVID-19 in Massachusetts did briefly drop to around 400 a day in late May, but spiked again to almost 4,000 a day in June. Using Green River's Open Path software, BHCHP and the City of Boston were able to share data among homeless shelters, agencies and service providers in real-time to locate patients, collect their test results and check on their status. "The software really allowed us to share information among shelter sites, so we would know a person's status when they checked in, and also provide testing or care for them," says Nguyen. "This way, we did not have to reach out to each shelter individually, which would have been extremely difficult, if not impossible. Guests at the shelters are checked in at the door so, if they test positive, when they check in it will trigger an alert and we can make sure to get them somewhere safe so we can help them recover without infecting others. For contact-tracing purposes, we're able to see where people are staying the night, who's been exposed, and reach the shelters to communicate more easily."
Contact-tracing capabilities through the Open Path software allow care providers, governments, hospitals and insurance companies to track patients' close contacts, staff contacts, the history of where that person has been and their medical records. For COVID-19 patients, it covers clinical screenings, test results and, for those in quarantine or isolation, how long they sheltered in place before they went back into the world. Information includes patients' test results before and after quarantine and recovery. "BHCHP had an elaborate index of cases they wanted us to track and trace," says Green River's Knapp. "Every facet of the software is something someone wanted, requested, vetted and built with us collaboratively."
Open Path's software tools also offer built-in privacy and consent functions, so patients can opt in or out of sharing their data and staff can keep patients' personal data private. In addition, the tools are customizable for any locality and can be used in the event of any future pandemic. "There are inventions inside these tools that I want to offer around the whole country," Knapp says. "The goal is ultimately to fix our broken healthcare system."
The results of Boston's use of the Open Path software were beyond what anyone dared hope. BHCHP's Nguyen says that since June, confirmed cases of COVID-19 among homeless patients have dropped sharply. "Rates now are low!" she says. "At one point, we saw rates among the homeless as high as 20% to 30% at some shelters. But they have now fallen to as low as 1% to 2%."
While COVID-19 cases in Massachusetts still number in the hundreds a day, there have been very few cases among Boston's homeless community, Nguyen says. "We have been seeing such a low prevalence, we were able to move to surveillance testing from universal testing in July," she adds. Surveillance testing monitors and tests small batches of patients, while universal testing tests entire populations.
"I think everyone at Boston Healthcare for the Homeless is definitely feeling a sense of accomplishment that we were able to get past such a difficult time," Nguyen says. "This software has been tremendously helpful and is definitely one of the reasons we have been able to save lives. Because we are a healthcare center, we are not just seeing the homeless. We are seeing many vulnerable populations. Without a tool like this, I don't know how we would have done it."
Green River's Knapp says partners like BHCHP, along with the other organizations, states and cities already involved in Open Path, are the reason why his team is able to build software that improves people's quality of life. "We are incredibly proud to be able to do this work," he says. "We are here to try and save lives."
Other state governments, nonprofit agencies and corporations using Open Path include the Commonwealth of Massachusetts; the City of Springfield, Mass.; Tarrant County Homeless Coalition in Fort Worth, Texas; and Homeward Virginia, a planning and coordinating organization for homeless services in the greater Richmond region. Additional features for Open Path have also been developed with Community Action Pioneer Valley, in Greenfield, Mass.; the medical insurance company Anthem Indiana; Michigan Coalition Against Homelessness, a nonprofit in Lansing, Mich.; and the City of San Diego.
Originally developed as a custom software build for Boston's Mayor Walsh, the City of Boston and its Department of Neighborhood Development, the goal of Open Path is to provide a shared technology resource that states, cities, companies and organizations can use to help the homeless, without paying any licensing fees. All contributions and enhancements made to the software must also be released and shared as open source. 
"This is an integrated effort, involving many different people and organizations," says Mary Takach, senior health policy advisor for BHCHP. "We have been using Green River's software for years, which greatly enhances our ability to find individuals who are experiencing homelessness and connect them to health care and case management, and to assist with services such as income support or food assistance. The software from Green River helps us do that."
Looking ahead, Knapp says that his aim is to expand Open Path to states and cities across the U.S. to increase its ability to help ever-larger populations. "When you take many different information silos and bring them together, you create value," he says. "We are a small, upstart company, but we have the best and fastest software. We use machine learning, data science, analytics, workflow, security and privacy for social justice. The world is more vulnerable today than during the last pandemic of 1918. It's more crowded. There's a contempt for science and the press. But we have amazing medicine versus 100 years ago, and amazing tech. We've been using software for social justice for years, and now we have the ability to use it during this pandemic. We have a whole system to keep people safe and many people are only just starting to understand the wide-reaching ways they can use it."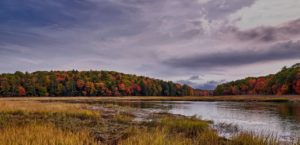 I'm thrilled to announce that Ian Kozak has assumed the role of CEO at Green River. Ian joined Green River in 2015 as our Director of Strategic Development. His calm and clear-headed leadership in that role has been instrumental in Green River's success.